Interviews:
English
Pieter-Jan Vanden Broeck
11 februari 2016
Achtung! German technical death metal outfit Obscura have just released their fourth album. Akroasis saw the light of day earlier this month. Your Snoozecontrol-reporter had the privilege of conducting an interview with founding member, vocalist and guitarist Steffen Kummerer. Apart from the obvious questions, themes such as philosophy and appreciation of Chuck Schuldiner were not avoided. Continue reading for a look inside the mind of Herr Kummerer.
---
February marks the release of Obscura's fourth studio album. What can we expect from Akroasis?
Akroasis combines our very own sound with a few new elements, a different groove, more complex rhythm patterns and the best production we came up with so far. The songs are pretty fluent but varied so to say. We managed a certain laid back feeling among a technical- and progressive death metal record. The album sounds very unique, just give it a listen.
The artwork for Akroasis reminds me of the Atheist-album 'Unquestionable Presence' (1991). Coincidence or not?
A full coincidence if so! To be honest, I cannot see any similarities between both artworks. Orion Landau - long term Obscura artist - came up with an idea based on our previous album concepts. The artwork follows the path we began back in 2009. I love Atheist, but this artwork hasn't had impact on our new record.
No covers this time?
No! Leaving covers out of our new record was a conscious move. We recorded three covers for a compilation of our first demo to give our early influences homage: Death, Cynic and Atheist. This is where we come from, these bands are our roots. During the last records we found our own niche, our own sound and since then I rather play our own music instead of covers. No covers anymore!
I hope we don't have to wait five years for the release of a fifth album. Do you have a concept in mind for future albums or is it too soon?
We thought the same when releasing Cosmogenesis in 2009. We released that album after a five year break between our debut Retribution and the first album for Relapse Records. We already shared ideas for our fifth album in order to finish the cycle soon. The last song on Akroasis stands as a spoiler for the upcoming record – more is coming very soon! First of all, we are back on the road presenting our new record on stage, supporting Death DTA in March and April, playing a European festival tour and coming back to Asia afterwards. Within the next two years we will mainly tour around the globe and write new music. Anyway, I hope it won't take another five years to release a new album.
Philosophy tends to be a significant inspiration for Obscura's lyrics. The often misantrophic works of Friedrich Nietzsche have inspired many bands in the Metal genre. Goethe and Schelling seem rather odd sources of inspiration. Care to explain?
A few years ago I read Nietzsche as well and couldn't find too many interesting parts to be honest. Working with ideas within a macro- and meta basis seems more interesting to me and I combine the mentioned philosophers with religious thoughts and an astrophysical element. During the last records we were able to point out all three entities in different contexts. This started back in 2004 when I started reading more and more regarding the mentioned topics. Somehow I found links in between, questions related to all three entities but also a personal preference to Schelling and Goethe. Writing lyrics for an album isn't easy – most of the topics have been covered, others are not my cup of tea. I'd rather write something with value instead of filling some rhythm patterns with text. Most of our fans don't care about lyrics and rather look into the musicianship…that is absolutely okay to me. This gives me more freedom to write about topics I'm interested in.
Goethe was quoted saying "Whatever you can do or dream you can, begin it. Boldness has genius, power and magic in it!". Do you agree? What is your dream regarding Obscura? Ever dreamt of, for instance, headlining Wacken Open Air?
That is a nice quote! It is applicable to any DIY-band on the planet. Just do what you like, set a goal and move forward. Regarding Obscura, we kept our dreams realistic and built up the band from scratch. Years ago my dream was a real tour – and we achieved that. A bit later it was a huge dream to play in Japan and North America –we made this happen as well. Headlining Wacken would be an honour but it is not realistic. My dream right now would be a tour with Megadeth or Testament, both old heroes of us and killer live bands that still pull it off after so many years!
While researching this interview, I noticed that the late philosopher Ludwig Feuerbach was born in Obscura's hometown of Landshut, Bavaria. In what manner did he spark your interest in philosophy?
At the moment a long list of books is on my to read-list. Feuerbach is not among them right now and wasn't so in the past. I read a book about the history of my hometown and came across his name… I haven't read any of his work to date.
Line-up changes have been a constant factor in the history of Obscura. Does one never get tired of fitting in new members?
Indeed, but this is nothing new to any band. Line-up changes are time-consuming and hold back the band. With Linus Klausenitzer, Sebastian Lanser and Rafael Trujilo we have great vibes and we are preparing our upcoming tours at the moment. They are all both highly professional musicians and relaxed personalities. It is a pleasure to spend time in the rehearsal room with these guys. Having a good time together is of course also important.
In the past, Obscura had the privilege of touring the land of the rising sun. Japanese crowds are well known for their devoted fandom. What was it like to play over there?
We had the chance to tour Japan twice: with Nile and Triptykon in 2010 and with Beneath the Massacre in 2012. I have huge respect for everyone who worked with us in Japan. Everything was simply perfect and I consider both trips as highlights in my career. Hopefully we will be able to play Japan once again this year. It is always a pleasure. The Japanese fans know everything, our recording technique, the history of our producers , even the guitar teacher of our new guitarist. Playing in Japan was an unbelievable experience. The live shows have been fantastic!
Staying on the touring-topic. Performing in the United Arab Emirates seems rather unlikely for a (Death) Metal band. I find it hard to imagine devoted Muslims attending these kinds of events. I imagine most of the spectators were expats or am I mistaken? How was the overall reception?
In 2011 we played a number of concerts in Thailand, Indonesia, Singapore and the United Arab Emirates. The first show was scheduled in Dubai…we were the first European death metal band to perform in the Emirates. Everyone treated us with respect and vice versa. It is a completely different culture, a different way of life. At the same time the fans made us feel very welcome, so did the promoters and everyone else we met. Since there was no concert hall or club, a stage was built into a five-star hotel. It was a weird constellation but everything went well. Fans were flying in from different countries and witnessed their first metal show ever. It was a pleasure and I am still grateful for the invitation.
Apart from Obscura, you are also active in the Black Metal band Thulcandra. The latter hasn't released an album since 2010. When can we expect a successor to Fallen Angel's Dominion?
Just a year after our debut album - Fallen Angel's Dominion - we released a second full length record: Under a Frozen Sun. Last year our third album (Ascension Lost) was released by Napalm Records. Right now we are writing for our fourth album and estimate to enter the studio around late 2016, depending on the writing process. It is completely different music compared to Obscura. If you enjoy old school Swedish Black- and death Metal in the vein of Dissection, Vinterland and Sacramentum, give it a listen.
Apparently, Thulcandra has a tour scheduled with Secrets of the Moon. How do you plan on combining that with the release of the new Obscura-album?
We plan in advance and avoid scheduling conflicts. Both bands are very important to me and in the end it is my job to combine both duties. Thulcandra joins Secrets of the Moon, Dodheimsgard and Our Survival Depends on Us in March for a tour of 11 European dates. Afterwards Obscura supports Death DTA during their European Thought Patterns Tour. I can't wait to go back on the road with good friends and playing music live.
Which Obscura song (or album) would you recommend to metalheads not yet familiar with the band's work?
The new album of course. This is the band here and now, the previous albums represent Obscura at different stages and different times.
You are known to be a huge fan of Death (hard to disagree with!). Due to visa issues you were not able to take part in the original DTA-tour. I can imagine this was a huge let-down for you… Any chance that you will participate in future DTA-tours?
Well, it was a hard lesson not to count on bureaucracy. It was the worst experience I had as a musician up until now. Matt Harvey of Exhumed and Gruesome stepped in on last minute and saved the tour. With Death DTA, I had the privilege of taking part in a number of tours following the before mentioned disaster. It was a tremendous experience playing with the people that made you pick up a guitar as a teenager. is was better than anything I could imagine. Max Phelps of Cynic and Exist is doing the vocals at the moment…he is absolutely nailing it! In March and in April we hit the road together once again. I am looking forward to sharing the road with Death DTA once again…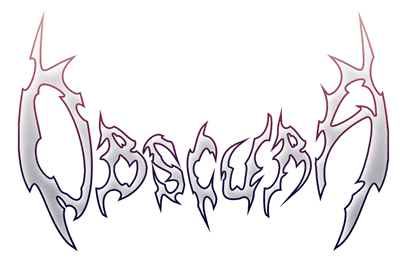 Obscura was established approximately one year after Chuck Schuldiner passed away. Have you ever had the opportunity to meet Chuck Schuldiner? What would you say to him if he were still among us?
Unfortunately, I never met Chuck in person. I have never seen Death live on stage. If hewould still be alive, I'd go with ABBA: "Thank you for the music".
Any final words for our readers?
Thank you very much for this interview. I hope to see you all when playing in Belgium!