Interviews:
English
Van Muylem
3 januari 2016
Helcanen Val is working on a lot of things and is still planning the new edition of the next Metal Female Voices Fest! Recently she unveiled her bright new project, getting curious? Read further …
---
Hello, first time I run into you is with the Metal Female Voices Fest (MFVF). Can you recall how it all started and who came up with the idea?
It's already an old story haha. We were organizing concerts in Brussels since few years (with my ex-partner) and we came up with the idea of a little festival including Epica and several other Metal bands. The line-up was including many bands with a female singer, so we decided to move the bands with male singers to another day and keep only the ones with female singers. The name Metal Female Voices Fest came naturally. And it's for the 5th edition that I drawn the MFVF logo/mascot.
By now it's a very highly appreciated festival with that special touch, it feels like lots of bands are really wanting to jump for it or am I wrong?
Many bands want to play MFVF, because it's a festival where you can get good feedback all over the world. They also play in really good conditions, the small bands on the same stage than the headliner, same sound/light. But also, once they played, they want to come back. Even if not performing, coming just as visitor to meet again everybody.
The atmosphere of MFVF is unique, when everybody is talking about MFVF, they always call it the Family, a big Metal family. And I consider it also like this. The festival is a big gathering, people are coming from every corner of the planet. It's the central point for everybody to meet once in a while. Some would even have never met...

What is the most crazy thing that happened whilst a band was aiming for a spot?
I don't see a really crazy thing, depends the level of craziness you target hehe.
Once, a band applied to the festival, but after checking we noticed they didn't have any female singer, so we pointed this to them. They simply answered that it's not a problem, then, they will change their male singer and hire a female one for the fest lol.
One of the special things is the opening day with lots of special performances and a unique show. Is it hard to gather all those ladies together and let them perform special covers with a band that has most of the time never played together?
Yes, it was always a big challenge to set these shows. Most of them never had rehearsal before, they just did some Skype to sing together, musician apart. That was a hard work, especially for Maxi Nil as she proposed herself to conduct the troupe.
The Eve's Apples and Metal Female United offered a really unique shows to fans, many duets that would never happened in normal events. New singers sharing the stage with famous ones, some even realized a dream performing duets.
Sad thing, but I suppose it's really needed, is that it will now only occur every 2 years (just like Trolls et Légendes does). I suppose the hardest thing is to find sponsors and good promo partners?
Well, at this point, I can't say if we will organize the MFVF every 2 years or keep it as an annual event.
We hope to organize the MFVF every year of course.
The 1 year break was necessary to work on many little things we never have time to focus on, as we usually start working on the next edition right after one is done, sometimes even bit before.
Finding sponsors in Belgium is quite hard, Metal music is not really interesting for them unless you have really huge event or having "contacts". MFVF is self-financed, and until now remains like this. That's why we have serious partners, they are helping a lot with promotion, good deals, etc.
I also noticed your love for Japan, it's art and it's music, how come you fell in love with it? I'm personally attached to Saint Seiya, Naruto and the food (J-Rock is not bad).
I was a fan of Anime/Manga since my childhood. You pointed Saint Seiya and it's my favorite since it was broadcasted on TV (in France). Then there are plenty Manga I like a lot. J-music came really later, with "old times" of Myspace, I started to listen to many bands even really unknown ones,, then watch documentaries about Japan, buy books etc. This is the start to my Japan addiction, but still I never been there until that time.
With MFVF I started to meet Japanese people, got much more connection with that country, and then one day I had the chance to go there, with the great help of some close friends.
And yeah, the food is amazing, you have to try it over there! And no, Japanese don't always eat sushi lol
If one would ask you to create a manga about MFVF, would you agree? Story lines could be adversary with other festivals, looking for bands …
It would be great, but creating a Manga is something really difficult. It's the same work as a comic book, you need some special skills and training that I don't especially have.
In the past I started working on a comic book with Dendura, previous band of Aziza (Aria Flame), there was a writer/scenarist and me for the drawings. The work was bigger than we expected, and without help of professionals it was non-sense.
How many times have you been to Japan, yet? Is It also a way to discover new bands from over there?
I went 6 times in Japan until now, and of course hope to return soon! Indeed, it's a good way to discover Japanese bands, I had already nice surprises while attending some events. Unknown bands , you would maybe never hear about outside of Japan, you discover by hazard. Live show is a good way to discover a band, to see the energy and passion they give in real.
You also have your own artwork page and are very creative (painting, design, drawing), can you tell our readers more about it (and make them want to look at it)?
Art is my main Passion and I try to make it as my main work. People who are used to MFVF have already seen many of my work, like the logo/mascot of the festival, the portraits of the singers, many works used for the merch every year, etc.. This is a part of it, but when it comes to my personal projects, the themes are around Fantasy. I like drawing/painting Angels, Elves, Fairies; my universe is more about Magic.

http://www.facebook.com/HelcanenOfficial is one of the sites, the other one is http://www.helcanen.be/home.html.
Do you reach out to a lot of people, is there a special niche that you want to conquer?
My website is important as it's like a Book of my Art, but I probably reach more people with Facebook as it's more interactive place, I post often news and sneak peeks of my actual projects. And when people support you, they share your work everywhere. I don't want especially to conquer a special niche, but as I have connection first with Metal music, it comes naturally to target this field, and this public is most reactive to my work.
You are also a photographer, never thought about working for another magazine – next to BCM (most of the people I know do it for free)? I give in the link for our readers: (http://www.houseofsecretsincorporated.be/BCM.htm)
Of course, working also for other magazines would be nice, but there are already plenty live photographers proposing their services, for free, so I rather like photographing in different fields (photoshooting, nature, etc). So I'm happy to give already my contribution to BCM, as Hilde is a friend, we share the passion for Japan, and the magazine is not only about music but the culture in general. So, after each of my trips in Japan, BCM gives me a large coverage of my pictures (music, tradition, landscapes, food, funny stuffs...). They just published a special Hiroshima photo report.
I created a photography/travel page, if you are interested to go on the road with me. https://www.facebook.com/Helcanen.on.the.Road
You also recently released Once Upon A Poem, can you explain to our readers what to expect? How was it to work together with Karolina Pacan (singer from Skeptical Minds)?
Once Upon a Poem is a gathering of our Worlds, as you can find Magic, Fantasy, lot of emotions like happiness, darkness, sadness, illusions, pain... all substances consisting Life and Dreams. This is more than a common project, it came to life because of our friendship... and Tea haha.
The book is a symbiosis of our different skills. Karolina is writing and I do the illustrations, as well as the photography and the design. We wanted to release something for our self, apart from the music.

As this book was our first real collaboration, we needed to meet more than once to see the project coming to life. Karolina started to write the texts, sent them step by step so that I can start drawing sketches, finding ideas and checking if the main sense was understood. The texts are often abstract so it was important that I caught the main idea first. We were a bit in a hurry with the time as we needed to release it for the MFVF, for which I was working at same time. That's why we started already to work on ideas for the next one. Yes you can expect a new book in 2016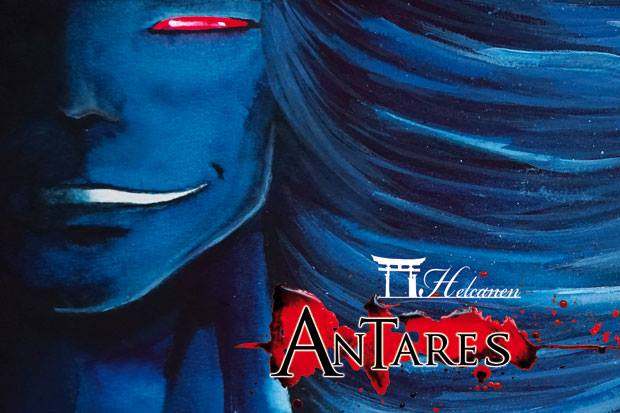 But for the moment I focus on new artworks for Aziza World Fragrance & Aria Flame, and most of all on my new personal project. The title is ANTARES. This is an illustration book combined with Haïku (really short poems, coming from Japan). If you are curious about it, you can find some of the "work in progress". I've launched a campaign on Indiegogo https://www.indiegogo.com/projects/antares#/ where you can find more info about it.
Skeptical Minds just released a new album and a comic strip and decided to combine both and head up for that way, what do you think of it?
I totally like their concept-album, combining both is not usual, at least in Metal music you can't find any band doing this. Alain Poncelet's art matches with Skeptical Minds atmosphere. So, I highly recommend you to have a look to this project, the result is really professional!
You recently toured together with Leaves' Eyes and helped them out with the merch, how did that go?
Yes, in fact I joined their support Diabulus in Musica to help for their merchandise, but at the end we were sharing the same merch space, so we can relay each other when needed, spent some time all together to have a talk about many things, etc Yes, talking about MFVF, tours, good memories.
The tour was amazing experience, especially because everybody were great people, Leaves' Eyes' members are really kind and true people. They are easy to tour with, and I came back with great memories, new friendships. And it was good to see many MFVF faces in every country. They didn't forget to remind me how they missed MFVF this year but were happy to see the announcement for 2016.
We now know that they will be one of the headliners, was that decided before or during the tour?
Leaves' Eyes show was already decided in early 2014, before the MFVF12. I proposed to Alex to be back with the Viking ship last year, but this is a huge show, it needs lot of preparation, and he told me that their next album will be about Vikings and would match perfectly with the show. And indeed, now that King of Kings is released, we can say that it would be perfect!
How would you describe their new album?
King of Kings is an amazing album. I heard the songs during the tour, before to get the cd.
I can say that after more than 3 weeks shows of Leaves' Eyes, I wasn't bored at all! The songs are really catchy, powerful, great melodies, it's an amazing artwork,... well, I'm not cd reviewer, so I probably can't find the best words to describe it. Just buy it!!! haha
What are the bands we should absolutely listen to, according to you and why?
For the moment, I can surely recommend to listen to Leaves' Eyes for the reasons explained above, and Skeptical Minds, their new album concept deserves more attention as also explained before.
There are plenty Metal bands , really not easy to give names as my preferences are sometimes really underground and not only Metal. Recently I just pick up some of my older cds, like Artrosis. A Gothic Metal band from Poland that I saw again live this summer. I also enjoyed watching the show of Liv Kristine combined with Theatre of Tragedy songs.
If you could pick out one band without having to think about the money and just book it (which hasn't already been booked for MFVF), can you drop that name and explain why?
I guess it would be Within Temptation as they never played MFVF. It's one of the big names with a female singer, so they attract many people and many MFVF fans hope to see them since many years.
The band seems to have some exclusivity In Belgium, it's a pity as people really enjoyed to see Sharon on stage with Delain.
Can you finally drop more names for the next edition and set the date? Will it still be a 3 days festival? Will you start later on Saturday and Sunday and shorten up the festival a bit?
Not yet, as I'm still waiting answers from possible headliners/co-headliners. Once the big names booked, then we will work on the general booking. The end of year is always bit slow to get news from agencies, some are closed or not working on tour schedules yet. At least, I can say that we will try to bring many bands that never played MFVF before, renewing the line-up and hopefully bringing some nice surprises.
What do webzine's have to do to get the credits for a press pass/photographer? Send out promo, do 5 interviews with bands (dropping a number would help)? How important is the help of webzine's for you?
Medias have to support the festival, do as much promotion they can do. Every year we have to be more strict as there are more and more webzines requesting free passes. Adding the date in an agenda or posting the flyers in a forum is not the guaranty to get a free pass. So, serious promotion before and after the MFVF will be the key to get a pass, this includes of course interviews. There is no number to be fixed, we always have a look to the work done before to hand out an accreditation….
You know, we noticed since years that many medias are bit "lazy" to do promotion, sometimes fans are even more active than them.
About the photo passes, it's even more strict as the photo pit capacity is limited. These are limited to the festival's partners.
With all the recent stress about a possible terrorist attack during gigs, does that stress you too? I can imagine that terrorist prefer to aim at metal festivals rather than at a show from Adele?
Personally I didn't care or stress with the news, I don't have TV so I was not influenced by the medias and wasn't dragged into the collective paranoia. People from abroad seemed more in panic than us here. And I really don't think a Metal event would be a good target, it's not commercial enough to attract attention. If you refer to the band in Paris, they were from USA and not playing Metal...
What can we wish for yourself and the MFVF-team?
For the MFVF let's wish lot more successful years. As long as the festival continues, we can all share good times with the big Metal Family. Meet friends from all over the world and listen to good music.
And for me... just that I can continue working in the artistic field and that my 1st own publication get lot of success haha!
Thx a lot for your time!
Thank you too!