Interviews:
Nederlands
Erik Vandamme
24 september 2015
Onlangs mochten we het album van T.A.N.K. reviewen. Deze werd uiterst positief beoordeeld door één van onze reporters. Daarnaast hadden we eveneens de mogelijkheid een interview af te nemen met de bassist en manager, namelijk Olivier d'Aries. Lees het Engelstalige interview binnenin.
---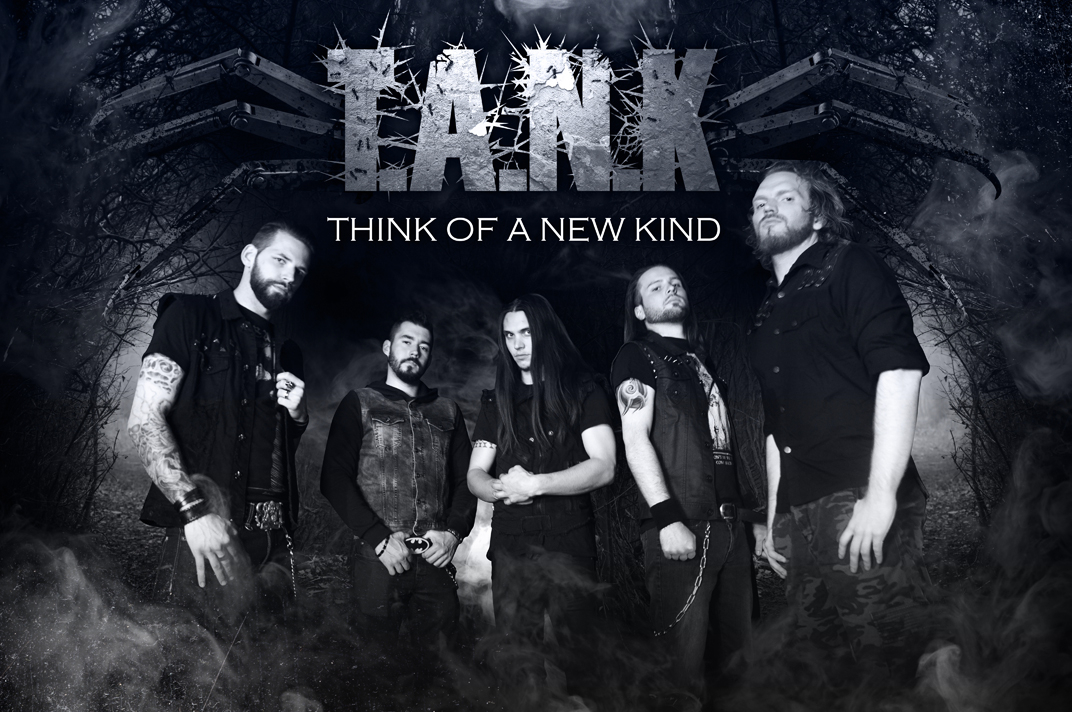 T.A.N.K. state as we read " Think of A New Kind." What is the actual meaning? Can you explain this out to our readers?

First of all, hi to Snoozecontrol team and readers! Our name deals with the message in our lyrics. Even if everything seems desperate, even when everything seems dark in our lives, we try to take the positive of it. We just want to give a message of hope. I believe that being part of a band is one of the most difficult experience someone could handle in life. However, it has made us stronger in our heads.
The new album will be released on September 21 on the market, we were all impressed. What are your expectations?

We are very glad you were impressed! I believe that Symbiosis is our most ambitious release to date. We expect French people to continue following us and that people who don't know us yet will become part of the story!

In addition to the melodic death metal we also found aspects of progressive rock in the back plate. What is your opinion?

That's interesting! You are not the first one to say that… Well it was not something we planned but obviously some of us like progressive stuff like Dream Theater, Textures, Pink Floyd, Queen, Kansas, Zappa… I and Nils Courbaron (Guitar) are also big fans of Symphony X. Whereas this progressive aspect of our personalities has always been part of the band, it seems that this time we put a little bit more of it in our music. I don't know if it has something to deal with the arrival of Nils Courbaron in the band but it is definitely something we love to listen.

What are the actual ambitions for the future?

We want to get bigger and bigger in France but we also want to gain new fans in Europe, as it is our first official European release. We have a great team working for us, we hope that people will discover and then remember our name.

Is there still a decent death metal scene in France? Or is it difficult to find work in your home country?

French situation is really complicated… We are not a rock country, so how could we be a metal one? Still we have great bands like Gojira, Dagoba, Loudblast, Betraying the Martyrs, Gorod, Benighted and many more. It's really difficult to get bigger as we need money to rule the project on our own, so we need to have a job. There are more and more bands, less and less venues, International bands now come with their support bands… To keep motivated, you need to consider the band as your family and one of your main reason to live.

In late November, you come to the Netherlands and Belgium. Together with Hatespere and Soilwork. What are the expectations of that tour?

For sure, we had amazing experiences abroad France in the past, like at Wacken Open Air, Metal Days or Basinfirefest… but we didn't have much opportunity to go on tour. Well as I told you, Europe is our new target. We will do our best to develop the bad in the countries where the album is released. That's why we go on tour with Soilwork and HateSphere this fall. You'll be able to see us live in Germany, The Netherlands, Luxembourg, Belgium, Italy, Switzerland and of course France.

The Location in Belgium, Biebob, is a rather small avenue, you guys ever hear of it?

Sorry but we had never heard of it before! However, I just checked photos and videos on Youtube, and it seems to be a killer venue!

Would you rather like keep playing in small avenues or playing as headliner on big festivals?

For sure being headliner in big festivals would be a dream come true! We had the opportunity to play on big stages at Hellfest, Wacken Open Air or Basinfire, and this is some of our best memories. We love running on stage and it would also mean that we might have enough budget to run a big show with pyrotechnics. But currently, our reality is to go most of the time on great stages like the biebop one, and we feel lucky and proud about it. And I don't consider the Biebop like a small venue. Playing in small venues where you don't have any lights or any place on stage is a problem for us, as we can't give everything. This is not the case there. I can't wait to be on stage in Belgium!

T.A.N.K. Is already on the road since 2007, is there anything changed true the years?

Of course, like most of the bands we had a few line-up changes. That was necessary to keep the motivation as like I said, the bands needs to be your main target in life or it is a dead-end. Therefore, we changed some musicians for different reasons and I consider the current atmosphere in the band as very positive. And well… I also had to cut my hairs ah ah!

I have read there is a new guitar player, Charly Jouglet ? Where did you find him, and how where the reactions of the fans till now?

Charly joined us this year, right after the recording of the new album. We took the time to discover each other before introducing him to the fans. He is a great guitarist, equally comfortable with rhythm and leads. He is a fucking great guy, very talented and motivated. We found him on Youtube and sent him a message. He already knew the band and he immediately sent us the best videos of the auditions. He learned the songs pretty fast, we are ready to come back on stage for the next tour!

We read recently about steaming through spotify , apple and so on. CD sales are going backwards, but the steaming increases. What is your opinion about this trend?

You know, we are children of the 80's and 90's so we still have this love for CD… whereas we are part of the generation that fucked up the whole music market. Like everybody, I downloaded the bands I liked, although I always tried to buy CDs when I was fan. However, kids currently consider music as something free, which is terrible. The CD has become a merchandising stuff like T-Shirts.

That's why we didn't give any credibility to labels that made us completely insane offers, very CD oriented. We take care of the digital aspect of our music and we still have deals with great distributions in Europe for the CD but we put more effort in touring. The CD is dead for me. I am sad about this situation but we need to move on. Streaming could be a good alternative if bands could buy more than a hamburger at the end of the month with the revenue (laugh)! No kidding, the streaming income is that low that we still get more money from the CD sales.

Is your music available on Spotify too? And is it helpful for musicians?

Yes, we are on the usual digital platforms like Deezer and Spotify. Is it helpful? Not really… Our music is available for free on many Russian websites, you can't fight it, you only have to deal with it. And this is great that some people listen to us on Spotify or Deezer, but this is the tree that hides the forest.

Unlike the CD sales, vinyl records sales seems booming nowadays. The new record is also available on vinyl?

Sadly it's not, because it is way too expensive to produce for us at the moment.

A multiple choice question: Wacken open air ? Hellfest and Graspop Metal Meeting? What is your preferred festival?

Wow, that's impossible to choose! These are the 3 best festivals in my opinion (with Metal Days which is an UFO). I would say that Hellfest is really awesome, as it has become very big, with the advantage that there are not too much people and the decoration is insane. As a festivalgoer I would say Hellfest or Graspop… and as a musician it's really too complicated to choose. Hellfest is our home, we have many fans there, Wacken is the ultimate Metal Festival and we have never played at Graspop where everything is fantastic… sorry I can't choose!

The festival season seems over, next to your tour with Soilwork and Hatespere, what is the next step? Going on tour in other country's or America maybe?

We really want to move step by step. We feel that we need to become bigger in Europe before going in the US. In addition, it would be too expansive for us to tour there, so we prefer to focus on Europe at the moment. But then who knows? Nevertheless, it would be an honor and a dream to tour in the US for sure!

What about trying out new music styles? Like thrash metal of black Metal? Or rather stay melodic death metal?

Well we do what comes from our minds, that's not something we can plan. We love melodies and heavy riffs. We love to mix many influences. We don't know what the next album will sound like but I can already say that the new tracks kick ass!


We wish you much good luck with the new album and hope to see you guys in Belgium or Netherland in November. Thank you so much for supporting us! We can't wait to play in Belgium or the Netherlands, two fantastic countries. See you there!