Nieuws:
Festivals
Erik Vandamme
12 september 2017
Liverpool International Festival of Psychedelia , de naam zegt het zelf. Stelt een programma samen rond kunstenaars binnen de hedendaagse Psychedelische renaissance. Dat gaat zowel over beeldende kunst, film en concerten. Het festival biedt dus veel meer aan dan optredens. Het is een totaalpakket van indrukwekkende visuele effecten en optredens tot films binnen een psychedelische omkadering.
---
We citeren even de Engelstalige introductie over het festival:

"Liverpool Psych Fest finds is a frontrunner of the psychedelic scene, while communities and festivals are flourishing in a global movement in consciousness. Prepare for the time of your life as PZYK presents a whole host of sonic and visual delights in multiple dimensions. This is a true exploration and celebration of extremes. High on visual aesthetics, this festival combines post-industrial architecture with its acid house rave atmosphere and art gallery space with an awesome village kind of mentality. This cohesive approach makes for a breathing art installation much like a psychedelic technicolor dream."
PZYK: Liverpool International Festival of Psychedelia gaat door op 22 en 23 september. Gaat door in de magazijnen van Camp & Furnace, Blade Factory + District in Liverpool's so-called Baltic Triangle for a global psychedelic frenzy. Op vier verschillende locaties. Naast één van de headliners The Black Angels treden een hele rits gerenommeerde bands en artiesten binnen de scene op. Zoals daar zijn: Lætitia Sadier, A Place To Bury Strangers, The KVB, The Telescopes, Songhoy Blues, Träd Gräs och Stenar, Träden, W.I.T.C.H (We Intend To Cause Havoc), The Holydrug Couple, Wolf People, The Bug vs Dylan Carlson, Jane Weaver, Adrian Sherwood, Fujiya & Miyagi, The Comet is Coming, White Manna, GNOD, Endless Boogie, Sex Swing, Castles, In Bliss, Celestial Bums en veel andere. Bekijk hieronder de volledige affiche: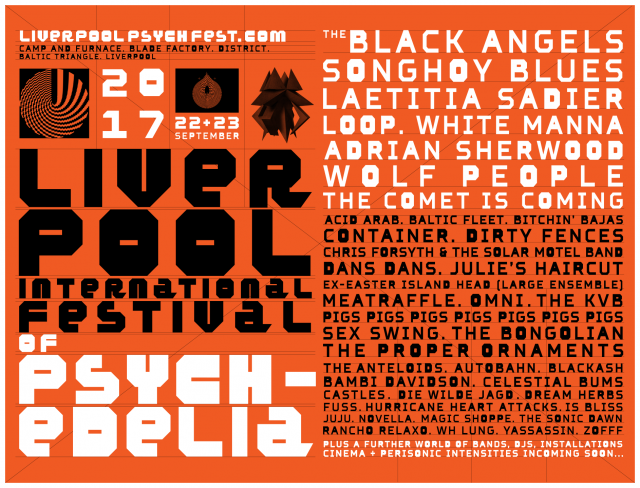 Er is meer op 21 september gaat er ook een PZYK opening party door. Voor meer informatie daarover, en over het festival zelf, verwijzen we u door naar volgende links