English:
CD-review
Filip Vanhoof
24 maart 2018
Since 2016, a doomed yet bright wind blows from the South of England.. The debut CD Conduit by Brighton based King Goat surprised friend and foe and blew away everything with their modern sounding progressive doom metal and their fantastic vocalist. On April 20th, the long awaited successor Debt Of Aeons will be released via Aural Music. The question is whether they could match their debut, an album that was highly praised around the world.
---
Debt Of Aeons will be released on April 20th, but when I heard that the promo was available I immediately jumped to the occasion to review it. I do listen to a lot of different styles of music, though mostly within metal, but Conduit is a record that I can play at any moment of the day, no matter what emotional state of mind I'm in.
High expactations are a double-edged sword as everybody knows, and it can be a drag for a band during the writing process. But King Goat doesn't seem to have suffered from it according to interviews they had with other magazines. They went in it with an open mind. When the artwork was revealed, it became clear to me that my high expactations were about to be a tad higher. The beautiful artwork, made by Travis Smith, fits them very well. From the moment that I received the promo I made sure I had all the music on my portable player and went outside in the Belgian cold temperature to listen to it with my in-ears and smoke a nice big cigar. There was nothing that could stop me from living that moment.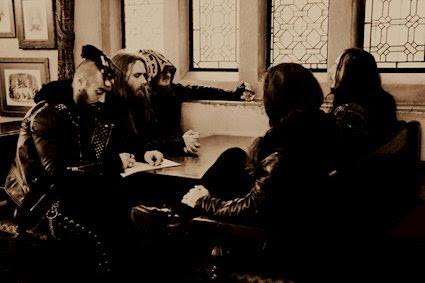 The album opens with "Rapture", a song that grabbed me by the throat immediately. A long, calm start with a single guitar accompanied by drums that evolves quickly to a fuller sound when the second guitar joins the party. When vocalist Trim joins I knew I was about to embark on a great vocal journey again. Immediately convinced that once again he knows when to use which type of vocal in his ever expanding vocal range. The riffs in this song are pretty slow paced, balancing between the thin line of just slow enough and too slow where the sound might sound false pitched. But it manages to stay on the good side. It takes a while to take in this song because there is so much variety in it. The band never lets a certain part within the song last for too long and manages to switch right on time, mostly triggered by Trim, who tends to change his voice on those moments. The song excels when he starts to roughen up his throat and gets a bit more aggressive. –You should all know by now, it could have been so much easier oh yes..- is not only being sung in an impressive manner, it's also the damn truth!
When the sounds of that first song slowly die, successor "Emerite's Rest" starts off more violently; it's quite up-tempo from the beginning. There's a feeling of despair through the song, a feeling of inadequacy if you must. The vocalist pulls out all the stops here. Impressive what that voice can handle. Now he balances on that thin line between just being able and too much. The song continues with mid-tempo riffing and a well-placed solo until it's time to change back to faster and then back to sensitive and calm again. The second time I heard those transitions, I remember that I had that cigar in my mouth and as my eyes were closed I started to wave my hand in the air like a silly wannabe choirmaster, though King Goat spares no effort in fucking with your expectations. The song ends in a sensitive manner: -I remember .... companionship! .... But I surrendered .... to SELFISHNESS! ".
The heavy end of the previous song is surprisingly being softened by the melodies at the start of the title track "Debt Of Aeons". Again a quiet guitar melody supported by drums, patiently waiting for the singer to lift the vocals off in the most gentle way. That soft baritone voice immediately gives the necessary rest. Though not for very long, because well, no King Goat song without any variety. And the voice once again triggers the moment where everything can explode. From that point on it's even time for a solo cleverly masked as a riff, creating some sort of chaotic sound. The song seems to end, but it consists of two parts with one second in between where you hear nothing. Confusing, but who cares at this point? Especially when you hear what's about to come at you: one of the best melodies that the band has already created. It sounds damn simple, but it is such a beautiful piece of pure class. The greatness is right back, and only stops when the debt of aeon is paid.
Every song is pretty long apart from the only real resting point on the record. A choice that I do not always understand because such songs offer very little added value. On "Psychastenia" you get to hear a short instrumental piece that is certainly just good but actually somewhat superfluous. Not that you'll hit your skip button fast though. The implementation is just a little too good for that. You hear no real vocals, only some mild screaming.
Meanwhile, King Goat has already released the song "Doldrum Sentinels" via Spotify and Youtube. This song starts with a nice groove while the vocals lift off with that typical almost-over-the-top sound. It surely sounds great, and when variation is necessary, the vocals always shift to a slightly more aggressive sound or back to heavy metal-like battle cries. Through a short atmospheric intermediate piece we end up in a quiet storm where the guitars sound off-beat. It sounds pretty contradictory actually. The vocals follow the same logic. King Goat proves that it has taken a step forward with their ability to write long, interesting songs. The best part of the song is also the best vocal part of the whole album. After about 4 minutes, Trim decides it's his time to shine to the fullest. His voice starts quite sensitive but quickly moves on to something more intense, faster, harsher, ending up in something that can only be descriped as either fear or hatred. Best vocals I've heard since Mike Mills who sings "0101100101011001" in that Ayreon song "The Day That The World Breaks Down"
-Calm, calm, calmy selecting the best of my memories
All, for, all for a fantasy cause
Believe, leave, Oh did I mention this brief contravention of
Mind, mines, digs to the core of the soul
Run, run, time is elapsing and you're not reacting at all
All, stall, stalling will buy you no more
Fear, fear, The one motivation to bring you salvation from
Death, death, Oh well it will come for us all-
The sixth song that seems to have no name at all works as an intro for the final and longest track "On Dusty Avenues". It opens pretty heavy but just like in the other songs it keeps shifting back and forth between soft and emotional, heavy and powerful and slight chaos. And why would you be surprised that Trim brings yet another vocal sound to the party?
King Goat didn't just manage to match the power of their debut albumt Conduit, no, they overclassed that one on Debt Of Aeons. I can only hope that their masterpiece may bring them to the main land in Europe for some great festival or indoor gigs, I'm pretty curious how they manage to play these song live. This is certainly a band that's ready for the future. Why not book them for a tour with Katatonia?
King Goat is :
Reza - Bass
Jon - Drums
Petros - Gitaar (lead)
Joe - Gitaar (rhythm)
Anthony Trim Trimming - Vocals
Tracklist :
1. Rapture (9:26)
2. Emerite's Rest (8:14)
3. Debts Of Aeons (8:22)
4. Psychathenia (3:56)
5. Doldrum Sentinels (7:05)
6. - (0:42)
7. On Dusty Avenues (10:19)
Mor info on their facebook or bandcamp.