Nieuws:
Muziek
Filip Vanhoof
15 september 2018
Het begin van het Duitse platenlabel Nuclear Blast werd gekenmerkt door Death Metal, intussen hebben ze heel wat meer variatie in hun catalogus geïnjecteerd. De eerste 10 jaar was het echter al Death Metal dat de klok sloeg, iets waar bovengetekende toch wel heel wat van heeft geleerd. Toen ik in 1994 begon aan mijn muzikaal avontuur was dit label de hoofdleverancier van mijn algemene kennis.
---
En geef toe, het kon echt wel erger. Death Metal werd nog gekenmerkt door de ruwheid van de Amerikaanse variant en de trage melodieuze Europese variant. Je hoort toch zeker een schril contrast tussen de eerste albums van Benediction (VK) en Brutality (VS). Heel wat bands stonden in de jaren 90 garant voor geweldige releases in het genre. Europese bands als Pungent Stench, Amorphis, Dismember en Hypocrisy hebben absolute klassiekers op hun naam staan, net als de Amerikaanse vrienden van Kataklysm (I know, Canada), Macabre, Master en Suffocation.
Om het label en de bands zelf meer publiciteit te kunnen geven, en omdat er geen internet was en mensen dus hun zuurverdiende centen nog volop aan cd's moesten besteden zonder op voorhand na te gaan of het wel ok was, werd wel vaker gebruik gemaakt van samplers. Death...Is Just The Beginning kwam tot stand en de eerste twee samplers liggen nog mooi in mijn cd-collectie te rusten tot ze nog is worden opgezet op de oude, handmatige manier. Intussen zijn er zo'n 7 waarvan ik het bestaan nog ken. Er zijn ook enkele DVD's uitgebracht die hier ook nog in de kast liggen, volledig voorbijgestreefd door het ontstaan van Youtube. Dat kanaal is dan ook dé nieuwe manier om bands in de spots te plaatsen. Meer en meer worden clips terug professioneler opgenomen.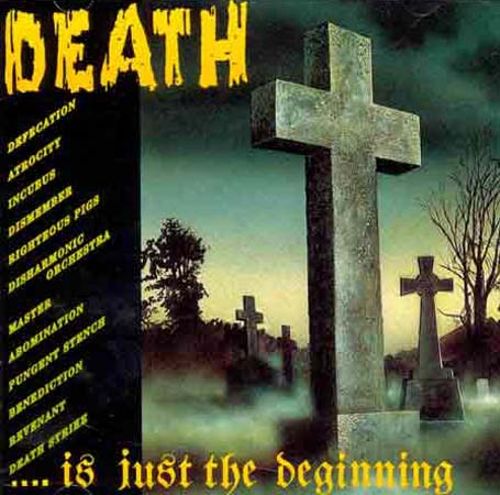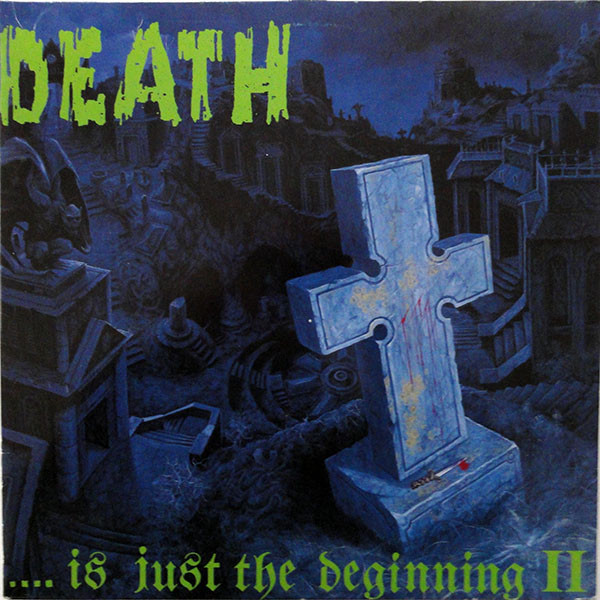 Aan het woord is Gerardo Martinez, labelmanager voor de VS :
"Being in high school in the early nineties meant that I was exposed to the death metal boom happening at the time, you couldn't get enough of it. The »Death… Is Just The Beginning« compilations and Nuclear Blast were a MAJOR influence on me and most likely many, many other people around the world. This is the way you found out about new bands. Thanks to this awesome compilation I found out about DISMEMBER, HYPOCRISY, PUNGENT STENCH, KATAKLYSM, and the list goes on and on... arguably one of the best and most influential times for extreme music in general.
Fast forward to 2018 and we still see the need to let the world know about new talent and our legacy bands still crafting heavy and uncompromised death 'fucking' metal.
Thanks to all the fans for following the label and for those who waited more than a decade to see a new »Death… Is Just The Beginning«… this one is for you!"
Op 19 oktober ligt Death...Is Just The Beginning MMXVIII in de virtuele rekken, en krijgen we een typische old school-achtige Death Metal sampler waar toch wel leuke en interessante nummers op staan :
Tracklisting
01. BENEDICTION - Tear Off These Fucking Wings (demo)
02. KATAKLYSM - The Awakener (re-recorded)
03. HYPOCRISY - They Lie (The Exploited cover)
04. THE SPIRIT - Illuminate The Night Sky
05. MEMORIAM - The War Rages On (demo)
06. INSIDIOUS DISEASE - Soul Excavation
07. POSSESSED - Abandoned (demo)
08. THY ART IS MURDER - The Son Of Misery
09. IMMOLATION - Morbid Visions (feat. Max Cavalera) (Sepultura cover)
10. NAILED TO OBSCURITY - King Delusion
11. BLEEDING GODS - Beloved By Artemis
12. DECAPITATED - Sane (Meshuggah cover)
13. AENIMUS - Before The Eons
14. PARADISE LOST - Frozen Illusion
15. CARCASS - A Wraith In The Apparatus
16. BRUJERIA - Viva Presidente Trump!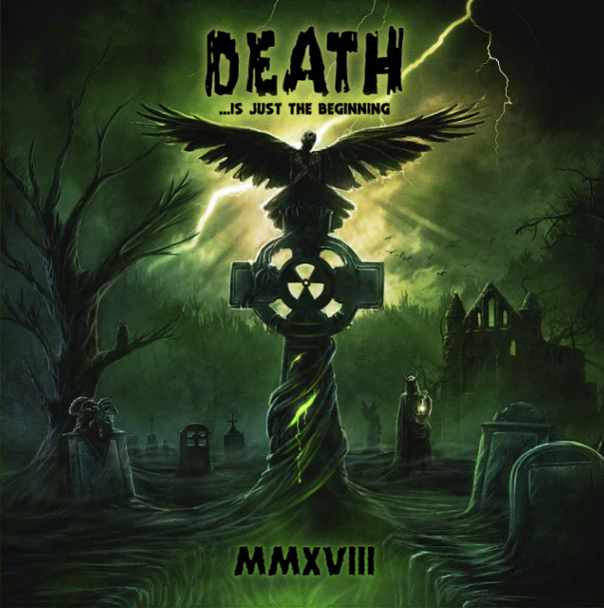 Het idee van deze sampler stamt van een brainstormsessie van de Canadese band Kataklysm toen ze op zoek gingen naar een naam voor de tournée die ze gingen starten met het Zweedse Hypocrisy. Toen iemand dit opperde lag de keuze vast. Misschien kijken we wel naar een jaarlijks event, telkens met andere bands van de oude NB-stal. Elk initiatief om Hypocrisy terug op tournée te krijgen juichen we hier toe! Op 4/11 staan ze dan ook in zaal Trix te Antwerpen. Meer info via hun facebook-event.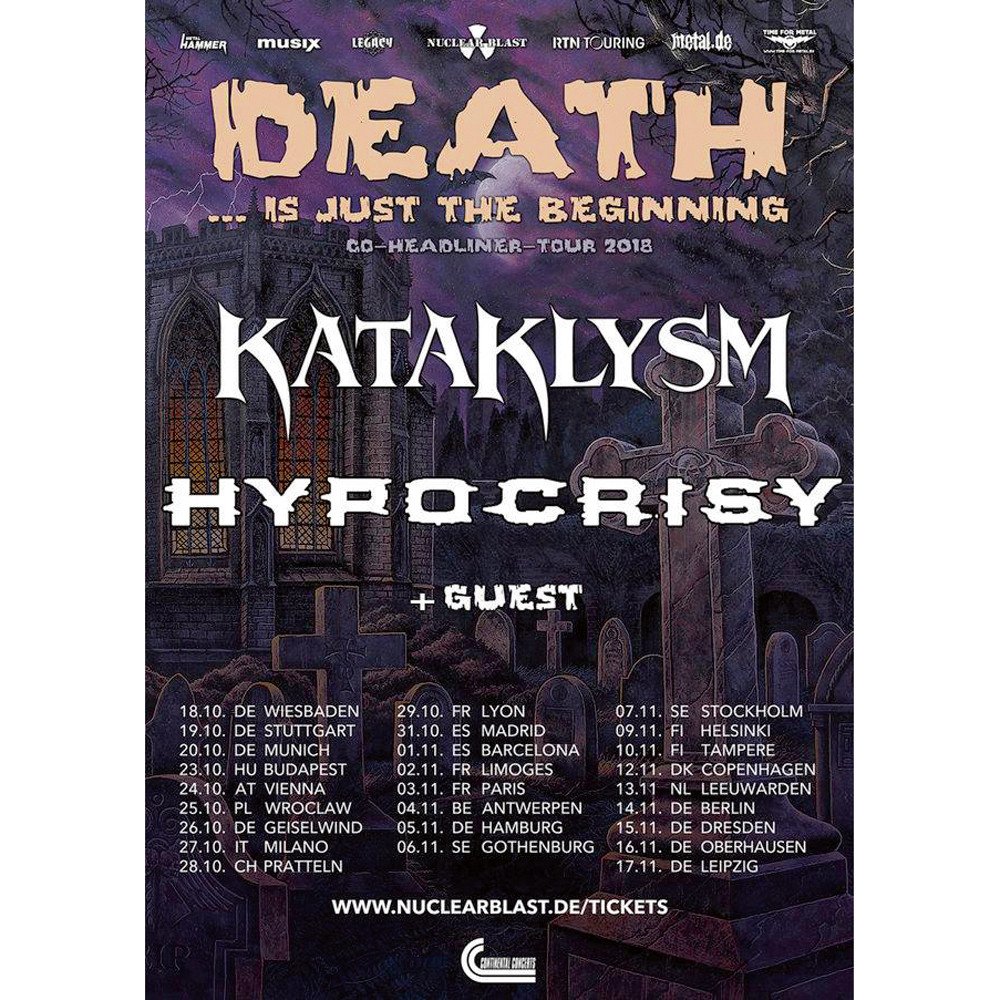 Meer informatie over de sampler via de website van Nuclear Blast.