Nieuws:
Muziek
Aanstaande vrijdag is de officiële release data van het nieuwe Katla album genaamd Móðurástin. We hebben de eer met Snoozecontrol om 2 dagen voor de officiële release al promo te maken hiervoor. We geven graag nog 2 quotes mee van de bandleden:
---
" Móðurástin, or (the) Mother's Love might be a strange title for a metal album, but what is stronger than a mother's love? Nothing. Not hate, not lust, not greed. Nothing. Móðurástin is a culmination of all that Einar and I have done before in various bands. We were very conscious though of giving Katla. its own sound and style, experimenting with new things like retro 80's synths and even edm/idm soundscapes (largely thanks to our producer Halldór Á. Björnsson of epic electro duo LEGEND) while still drawing from the atmospheric metal/rock foundations we have built over the last two decades. Going back to our blackmetalish roots for a couple of songs was something that came to us naturally while still maintaining a catchy rock'n'roll feeling with an overall doomy atmosphere. We feel we've succeeded in giving each song its own character whilst at the same time maintaining an overall interconnectivity. Although being a multi-instrumentalist, Einar mainly composes on a guitar, with me throwing in a few ideas, but even so we tried not to have the music too guitar-riff driven, not letting one instrument taking over. Using (mostly) clean vocals instead of the typical metal screams adds another layer of melancholy to the music. Katla. is all about creating an atmosphere rather than just blunt metal force. Lyrically the album touches on a few subject that somehow all seem to connect. The mind's own abyss, the longing for summer during the dead of winter and its eventual return in spring, and mostly the tough fight for survival far up here in the frozen north. But the individual's life doesn't always prevail. Hreggur tells the tale of the grim end sailors often met in the rough north Atlantic ocean around Iceland, and unfortunately still occasionally do. The title track itself, Móðurástin (Mother's love) undoubtedly tells the most morbid story of them all. It deals with the archaic Icelandic transgression of mothers leaving their newborn children out in the unforgiving wilderness, to succumb to the elements. A gruesome way to go for a vulnerable small being.
But these murders weren't committed out of hate, on the contrary. For example, women having children out of wedlock were often forced to "carry the child out" or risk the penalty, and in the story of outlaws Fjalla Eyvindur and Halla, a mother, after singing her child the most beautiful lullaby, throws the toddler into a waterfall rather than having it fall into enemy hands. The act of filicide must therefore evoke a mixture of the strongest feelings a human being can possibly experience. There is no need for hate when you have that kind of love. We're very proud of the fact that we were able to keep a lot of aspects of the production in the family so to speak. We worked again with engineer/production team of Leigh Lawson and Halldór Á. Björnsson whom had previously worked with us on our Ferðalok 7"ep. The album also features guest vocal performances by Einar's sister Sylvía Guðmundsdóttir who takes on the role of the estranged mother and my great grandmother Laugheiður Jónsson. Her part was recorded in 1934 and I'm not sure she saw this coming, haha. Amazingly her song Hvað Syngur Litli Fuglinn (What Sings the Little Bird) ties in perfectly with the title track where the mother refers to her child as her singing bird.
Furthermore all the artwork was done by the band itself, with the handwriting being Einar's very own and the layout and photography was done by me. I draw inspiration for my photography and lyrics pretty much from the same source, so it all comes full circle and ties perfectly together in the end. "
-Guðmundur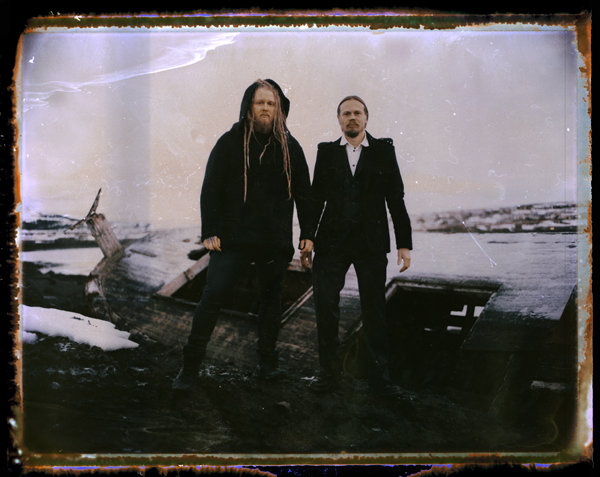 " 'Móðurástin' was a title that took me a few days to bite into after Gummi suggested it. But as our concept started taking shape, it started to make sense. The red thread through the album is family, bonds and life and death entwined with the unforgiving nature of our country. Mother's love and sacrifice has kept us going through generations as a nation in poverty and extreme conditions such as famine, hunger and cold.
The variety of our songs is what I am most pleased about and how they still all belong to each other. The album starts off as it might be heading into some sort of Doom metal but then continuously changes course to the very end. This is like a small glimpse or reflection of life itself and all the unexpected changes and turns you cannot foresee. Songs need to be able to stand alone as singles of course, but they are still only individual pieces of the journey that this album as a whole is to me, and hopefully more people out there. The photography that Guðmundur ties to the music and lyrics is something that completes the overall picture. If ever in doubt, it now becomes clear what Katla. is about. " -Einar
Het album is beschikbaar als Digipak CD, Gatefold 2-LP (on black and strictly limited dark green vinyl) en als collector 2CD artbood edition (28x28 cm, 72 pages, with art photography of Guðmundur Óli Pálmason and a full-length bonus CD feat. remixes of all album tracks)