Nieuws:
Festivals
Erik Vandamme
16 april 2017
Eén van de meeste gezellige metal festivals die ons land rijk zijn? Antwerp Metal Fest is door de jaren heen uitgegroeid tot een begrip binnen het 'metal en aanverwante 'gebeuren. Ook in 2017 heeft het festival plaats. Dit 8 en 9 juli, in het vertrouwde Bouckenborgh Park. Het was nog wachten op een laatste headliner, die is sinds gisteren bekend gemaakt.
---
Niemand minder dan Sepultura zal headliner zijn op Antwerp Metal Fest. De Braziliaanse band heeft binnen het metal wereldje ondertussen een legendarisch statuut bereikt, met klassiekers als 'Refuse/Resist', 'Roots Bloody Roots' en 'Arise'. Maar ook anno 2017 zijn Sepultura nog relevant, getuige het succes van hun nieuwe plaat 'Machine Messiah. De band splitte in de jaren negentig maar is nu al een tijdje terug van weggeweest en speelt wereldwijd voor uitverkochte zalen. Zonder meer zijn kan de Sepultura gezien worden als DE ultieme headliner van het festival. De affiche is na deze toevoeging bovendien compleet
Een overzicht van de volledige line-up:
Sepultura, Death Angel, Destruction, Vader, King Hiss, Evil Invaders, Toxic Shock, KomaH, Sisters of Suffocation, Bleeding Gods, Saille, Dead End Path, Goe Vur in den Otto, Diablo Blvd., Nervosa, Interstellar Deathroll, San Diablo, Fields of Troy, Moments, Speedqueen, Predatoria, Fractured Insanity, Bütcher, Furia, Carnation, The Curse of Millhaven, The Scalding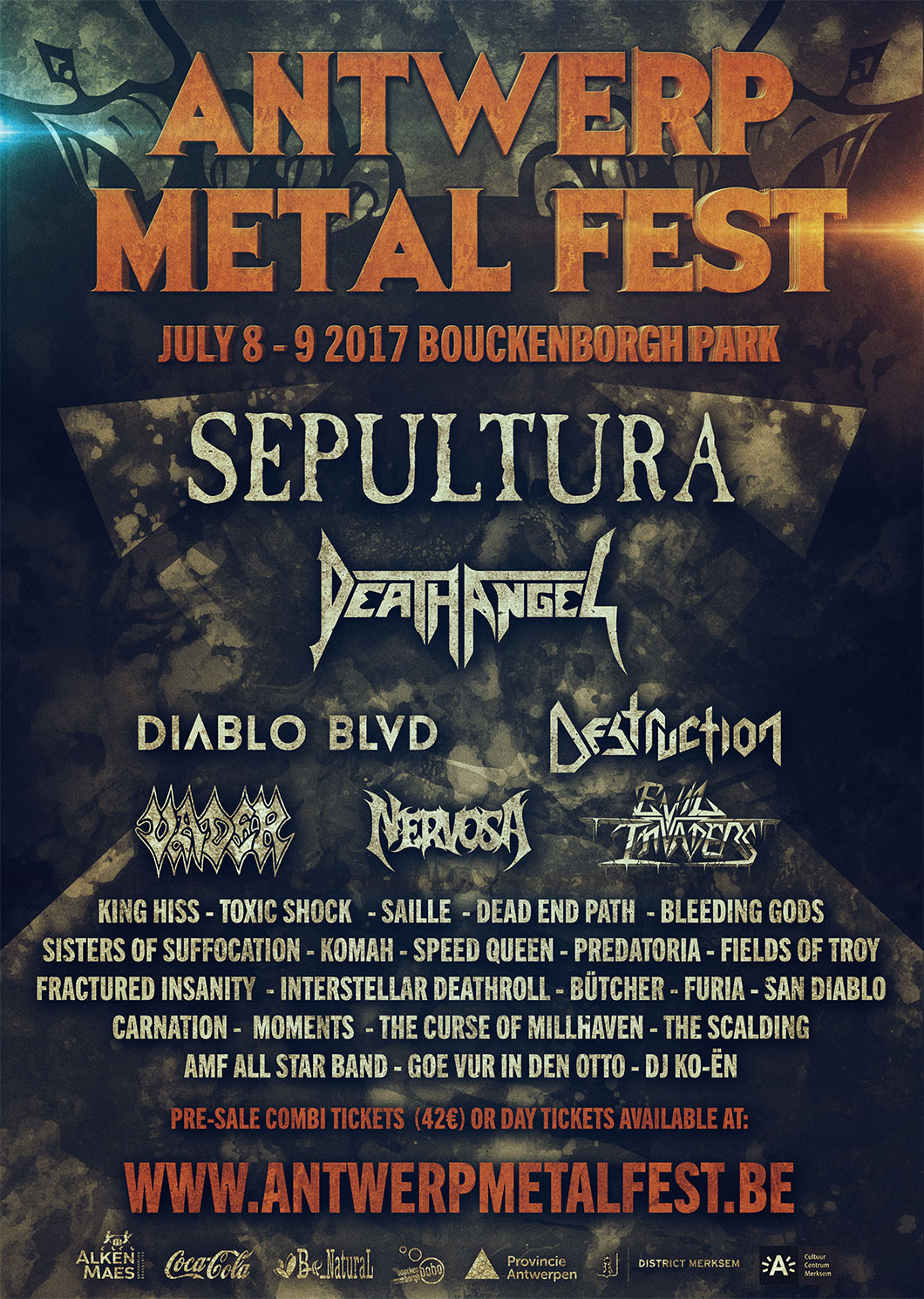 Early eagle combi tickets zijn VANAF NU een beperkte tijd te koop (tot en met 23 april) aan de soldenprijs van 30 euro, via www.antwerpmetalfest.be. Daarna kosten ze 42 euro. Vanaf 24 april zijn er ook dagtickets (32 en 37 euro) te koop.